By Amanda MacArthur   •  04/03/2012
As an editor, especially one that writes every day and several times a day, it's sad to see some of your best content hang out in the background, possibly never to see the light of digital eyes again. With hundreds of articles under your belt, there are surely a few gems that you're extra proud of and that if someone saw them a year later, they'd still be just as brilliant.
Thankfully, the web gives us lots of ways to recycle our best content. If you're in the mood to boost traffic while highlighting some of your best work, here's the lesson plan for today.
Step 1: Dig up all of your favorite posts.
This may take some time, but in the long-run it will be worth the effort not to miss a single one because having a big archive to start with means that you can work more strategically going forward. It also means you won't need to do this part again.
Step 2: SEO these posts for search.
If they aren't already, make sure that the titles of these blockbuster posts have awesome keywords. No longer will they sit in the archive under a layer of digital dust; SEO will bring them back to life and continually send new readers. Your best work deserves keywords!
Step 3: Create images and Pinterest away.
Before you say anything, take a look at the strategy behind Wall Street Journal; They're creating new images using pull quotes. People love to re-pin quotes on Pinterest so this is certainly the most Pinterest-friendly approach we've seen from such a business-oriented organization. Of course if you're writing about knitting patterns then you probably already have the images you need in the post.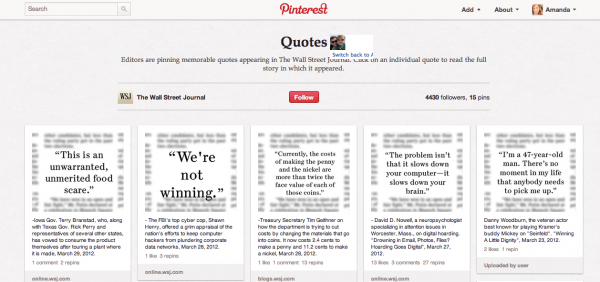 Wall Street Journal goes with pull quotes.
Step 4: Craft a white paper.
Find a theme in the lot of your favorite articles and decide how you can transform them into a white paper, ebook, or a round-up post that highlights each individual article. Many publishers create their ebooks from a collection of old blog posts, so why not share your best work in the same way? Package it together with a shiny bow while adding value to your site and boosting your email list.
Step 5: Tweet it forward.
Twitter applications like Hootsuite and TweetDeck allow you to schedule tweets for a reason. In our normal schedule, we post new articles right away and also schedule tweets a month later and then again six months later. This renews them and keeps our feed diverse. You can do the same with your blockbuster posts. Use one of these programs to create an upcoming Twitter calendar that continually re-posts your best once or twice a month for the next year, or for as long as you want to schedule them. Then you'll know they're always being renewed and new people will be reading them each time.
Step 6: Show some Facebook love.
I'm not talking about your traditional Facebook post here. Actually, I'm talking about that rank-boosting Facebook hack (one of my own blockbuster posts) where you post your article on the pages of other businesses. Now, this isn't applicable to everyone, but if you've ever featured or complimented a business in one of your articles, there's no reason that you shouldn't leave them a note that says "hi there, we mentioned you in the article, hope you enjoy!" with a link back to your article. This strategy drives a considerable amount of traffic. Not every business allows customers to post on their walls, but the majority of them do.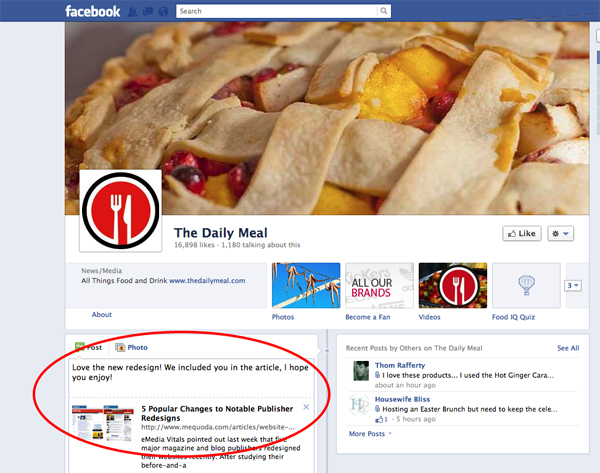 Telling The Daily Meal we reviewed their re-design.
Step 7: Submit these posts to popular bookmarking sites like StumbleUpon and Reddit.
I've actually seen significant traffic from these two sites for many different types of publishers. They have very active communities but haven't yet been littered by marketers. Don't share every article (because then you'll be that marketer that everyone hates), but disperse your best posts in a strategic fashion and be genuine about it.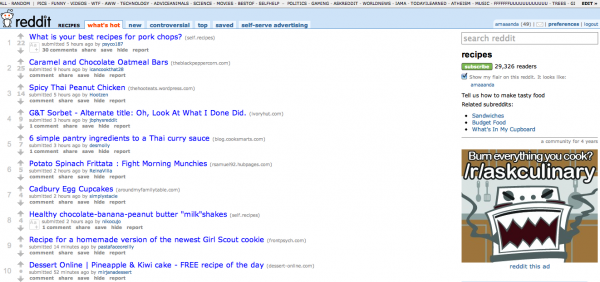 If you're a food publication, there are 29k editors waiting for new recipes here.
My bonus tip would be to link back to your blockbuster posts in your new articles too (like I did above). If they truly are blockbuster posts, then they're undoubtedly a go-to resource when you need to reference outside of your current article.
If you follow step 1-7 today, you'll be happy with the results. As always, I'd love to hear your own tips and tactics for recycling content. Leave your feedback in the comments below!