11 event websites that can get you listed in Google and extend your reach to the conference-going community
Thanks to the excellent folks at Mequoda for this resource list.
While press releases are still recommended for your events, we're finding that dedicated event websites are showing up more prominently in Google. When we spend the time to add the Mequoda Summit to event listing websites, we generally see more than half of the listings pointing to event sites and the others to PR sites like PRLog.com. When we search for the event using targeted keywords (for example, "internet marketing conference for publishers"), the results are the same.
This isn't to say that press releases are not effective for events—they are. Some event websites want to be the resource for all events and will list your event on their own, once they've found your press release online. For example, due to our Summit press release, our event was listed on MyEventGuru.com, which is actually a paid events site. Our event showed up in dozens of locations on the site and even landed on their front page. And thanks to our press release, we didn't pay a dime.
Here is a list of other popular (and free) event listing websites, in order of what have found to be the most effective (along with stats from Compete.com and Quantcast.com).
According to our new 2011 research, the primary audience of these sites has risen in age, where more 35-49 year olds hold the dominating demographic with ages 50+ not far behind. A drop in traffic for several of these event websites also indicates that our new additions have added a legitimate amount of fierce competition.

On some event sites, you can submit your event information and it will be listed on the site as well as anywhere else that syndicates content from the site. The best example of this type of website is Zvents. When you list your site on Zvents, popular sites that use Zvents as their event listing engine pick it up. When we submitted the Mequoda Summit to Zvents, sites like Boston.com amongst tons of local newspaper sites picked it up.
About Zvents.com  (updated 6/2011):
1.8 million visitors per month
Slightly more female audience (58%)
People ages 35-49 use this site most (34%)
Most users make more than 60k per year (73%)
More users have attended college or graduate school than those who have not (59%)
This site got us listed #2 in Google when you search for the term "internet marketing conference for publishers". The site is very bare-bones in terms of design, but the site is strongly optimized for search. Since we last researched these event sites, AllConferences has dropped in traffic, possibly indicating the use of other event listing sites like Facebook, but may also indicate an adverse effect from Google's Panda Update.
About AllConferences.com  (updated 6/2011):
11.2k visitors per month
Slightly more female audience (51%)
Large audience in the 35-49 age range (40%)
Mostly in households with no kids (67%)
Largest group of users make 30-60k per year (30%)
Well educated users, having attended college or graduate school (68%)
This conference community encourages social networking and even implements Google, Yahoo and Mapquest maps into the event description. It will let you list sessions (with full descriptions, times, etc.), speakers, and will event let attendees (and prospectives) discuss the event in a dedicated forum and write reviews. In addition, Confabb will track where your conference has been listed in Technorati, Google, Yahoo, Feedster, Flickr, YouTube, del.icio.us, and slideshare. In addition, as event attendees you can use the site to rate other conferences and otherwise contribute to the conference community. This site is lower on the totem pole in terms of website traffic, but very high in terms of  features.
About ConFabb.com (updated 6/2011):
2.4k visitors per month
Equal male/female audience (50%)
Large user base evenly spread over age 18 to 100 (93%)
Largest group of users make 60-100k per year (30%) but 24% make 0-30k and 27% make 30-60k
Large percentage of users have no kids (78%)
Highly educated with user having attended college or graduate school (69%)
This venue and restaurant review community has an event section that lists local events that get listed in the community calendar. Members can also say whether or not they're attending the event and review the event when it's ended. As a (free) member of Yelp, you can list events in the closest big city to the event. This option may work better for B2C publishers, as their audience is more consumer than business.
About Yelp.com (updated 6/2011):
15.7 million visitors per month
Slightly more female audience (55%)
Large age range with biggest group aged 18-34 (42%)
Wealthy users with largest group making over 100k per year (36%) and only 14% making less than 30k.
Average education levels with most having no college or some college completed  (80%)
Yahoo! members can list events on this popular local event website. Like Yelp, this may work better for a B2C audience. Going.com is another site like this with similar traffic.
About Upcoming.Yahoo.com (updated 6/2011):
263.8k visitors per month
Slightly more female audience (56%)
Most users are aged 18-49 (67%)
Income is higher, with many making 60k+ per year (64%)
Larger African American and Hispanic audience than other sites (23%)
Less users have attended college than other sites (46%)
Very popular for music, community and educational events. This site has an email newsletter that reminds users of upcoming events in their area. This is definitely a consumer-based website and would be recommended for charity, free promotional events or even a booth promotion at large events.
About Eventful.com (added 6/2011):
1.7 million visitors per month
Slightly more female audience (55%)
Ages 18-34 and 35-49 are equal at 32% each
Fairly even percentages across users who make 30k+ per year up to 100k+ (84%)
Larger Hispanic and African american userbase than other sites (20%)
43% have not attended college, but 42% have

About Eventful.com (added 6/2011):
1.4 million visitors per month
Slightly more female audience (57%)
Most users are aged 18-49 (66%) with very few under 18 (9%)
Somewhat wealthy userbase with many users making 60k+ (63%)
Larger African American user base than other sites (17%)
Almost half of users have completed college (46%)
Eventbrite is more of a ticketing website than a listing website, but one does follow the other. They allow you to register users and collect money for your tickets using their system. If the event is free, they don't charge you a dime. Additionally, they have an app that allows you to check people in at the door. Once your event is in the system you're automatically listed in their directory.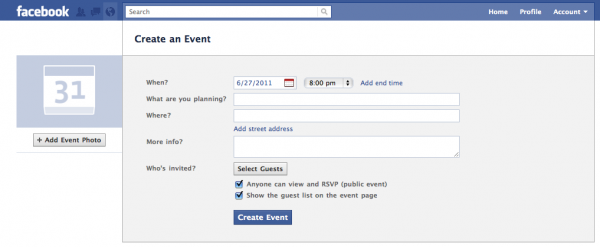 Facebook might not be a dedicated event website, but it allows you to tap into your own network, rather than asking people to find it on their own. When you post an event, it goes to everyone who "likes" your page and allows you to track RSVPs and send messages to anyone who is attending. For those with a large Facebook following, this is a great addition to all of the other event websites out there.
If you are in the B2B space don't forget to include your events in the LinkedIn events directory. These events show up in the sidebar of your network contacts and can also be found when someone is looking for related events. LinkedIn also has a paid feature that allows you to promote your event if you need the extra boost.
One other bit of advice is to look for local enthusiasts in your niche. In Boston, we have BostonTweetup, hosted by Joselin Mane, who curates an ongoing listing of Tweetups in the Boston and New England area. He keeps an ongoing calendar listing of upcoming events and sends event shout-outs and updates to his list of over 8k followers. Try to find people like this in your area.
Other sites you might find helpful:
DevTownStation – A tech conference and webinar listing site. Low traffic but lots of opportunity.
Gary's Guide – A tech events calendar that gets about 1.8k visitors per month and has a homepage for 15 major cities.
You may also find opportunities to list events in your local newspaper websites. Many business and community newspapers like Crain's Detroit Business or Ohio's Journal News accept event listings online.